---
About
---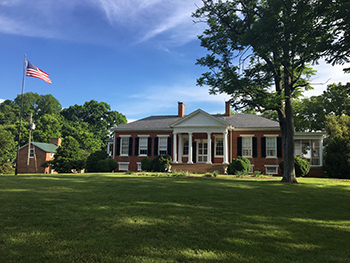 ---
Ampthill Farm is located in Cartersville, Virginia, about 45 miles west of Richmond. The property is listed on the National Register of Historic Places and the List of Virginia Historic Properties.
The farm currently sits on 175 acres near the James River, which once were part of a tract of 2,870 acres purchased by Robert "King" Carter, the largest landowner in Virginia, in 1723. Robert Carter willed the land to his unborn grandson, Carter Henry Harrison. Carter Henry Harrison's son, Randolph, acquired the original clapboard structure, of what is today the main house at Ampthill, in 1815. Randolph Harrison then asked his first cousin, Thomas Jefferson, to design a brick addition. Jefferson responded to Harrison with a letter that included drawings for an addition, which ultimately was built in 1835. After the construction of the brick addition, the plantation was named Ampthill.
Several outbuildings, apparently constructed around the time of the brick addition, remain today. These buildings include a cookhouse, a smokehouse, a tenant house, and an ice house. There also is a large barn that was added around 1920.
Today Black Angus cattle are bred and raised on the property. The farm also includes a vegetable garden with a variety of naturally grown vegetables including Roma tomatoes, yellow squash, Butternut squash, green beans, and sweet potatoes, as well as pumpkins and cantaloupes. Surplus produce is donated to the Central Virginia Food Bank. During the summers of 2014, 2015, 2016, 2017, and 2018 the farm donated over 1,100 pounds of produce to local food banks, including FeedMore and the Goochland Food Pantry.
The farm is managed by Randy and Paula Harrison. Paula is a Registered Dietitian Nutritionist who has taught nutrition classes for over twenty years, most recently at the University of Richmond's Center for Culinary Arts. She enjoys gardening, cooking meals with fresh foods from the garden, and encouraging others to eat local, nutritious foods.
You can see her food and nutrition blog at www.preventativenutrition.wordpress.com.